Customer reference
Otsuka Foods Co., Ltd.
Evaluation of "deliciousness" in food product development
Activity: New food products development
Context: Assess the sensory profile and shelf-life of food and beverages
Equipment: ASTREE electronic tongue with AlphaSoft
Website: https://www.otsukafoods.co.jp/
Evaluation of "deliciousness" in food product development

From the world's first commercially available retort pouch curry to soy meat, Otsuka Foods is constantly proposing new food products, using innovative proprietary food tech. Otsuka Foods is engaged in the manufacture, marketing, import and sale of foods and beverages as a "natural food tech company" that creates new dining experiences by developing products using natural ingredients and innovative ideas that are ahead of the times.
 
Combining instrument measurement with sensory panel evaluation

Aiming to visualize and objectively evaluate the "deliciousness" of retort pouch foods and soft drinks, we considered introducing a system that could quantify taste. We decided to introduce the ASTREE electronic taste system and a sensory evaluation software, because we thought that by introducing them together, we could combine the development team's advanced sensory evaluation with the sensor response values and conduct detailed analysis suitable for research and development.
ASTREE flavor analysis data and sensory evaluation data are integrated and analyzed to differentiate flavors, examine shelf life, and visualize the "deliciousness" of foods and beverages made from different ingredients. It is also effective in quantifying not only the five basic tastes, but also the unique flavor evaluation attributes of the development professional himself/herself.
 
Future plans

One year has passed since the system was introduced, and we have become more proficient in using it. In the future, we will continue to analyze not only processed foods and beverages, but also the "deliciousness" of the ingredients themselves, and work to develop products that make the most of the rich power of natural ingredients.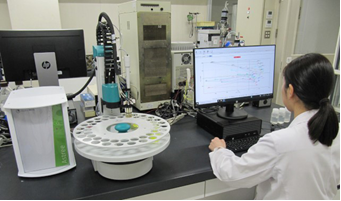 "This combination of sensory panel and e-tongue is efficient in evaluating the food products features."
 
Analysis Laboratory of Biwako Research Institute, Otsuka Foods Co., Ltd.