Customer reference
NIFTEM-T

Activity: Research in food processing technologies
Context: Evaluate the sensory quality of agricultural food products
Equipment: HERACLES electronic nose with AlphaSoft and AroChemBase
Website: http://www.niftem-t.ac.in/index.php
Improving agricultural products' quality

The NIFTEM-T (National Institute of Food Technology, Entrepreneurship and Management of Thanjavur) is a pioneer Research and Educational Institution under the Ministry of Food Processing Industries.
New sensory testing technologies to support Indian agriculture

In 2020, the NIFTEM-T equipped their lab with a HERACLES electronic nose from Alpha MOS for education and research purposes. The NIFTEM-T has already conducted studies on adulteration identification and authentication of traceability of food ingredients on products like millet, Ghee and other flavor compounds.
Dr. Rangarajan Jaganmohan comments: "As a multidisciplinary institute we have excellent usage of this instrument on assessing, developing and evaluating the research work carried out using different biosensors. Students were able to publish a good number of publications based on it. The department is involved in the product development and shelf life studies of developed products and also in assessing the quality of the commercially produced food. The after sales service and technical support from Alpha MOS is excellent and we wish to continue our relations for a long time."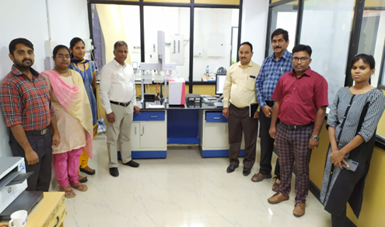 "The electronic nose allows us to explore researchable issues in the field of Food Chemistry."
Dr. Rangarajan Jaganmohan, Professor and Head of Food Product Development Department at NIFTEM-T
NIFTEM-T laboratory and team