Customer reference
New Max
New Max is the market leader in the production of additives, ingredients and natural colorants thanks to a strong performance in research and development of intelligent and technological solutions for the food sector since 1992.

Activity: Production of food additives and ingredients: stabilizers, emulsifiers, cures, softeners, color fixers
Context: Sensory testing during new condiments development and quality control of raw materials
Equipment: HERACLES Electronic Nose with AlphaSoft & AroChemBase
Website: www.newmaxindustrial.com.br
An e-nose to increase sensory analysis reliability

Offering innovative quality products

Within New Max, the R&D and quality management team is in charge of developing new products that will satisfy the expectations and needs of their customers in the food industry. They also control the quality of production and raw materials to validate new suppliers. They used to rely on sensory panel, until they purchased an electronic nose from Alpha MOS in 2016.
Aline Brigato, R&D and Quality Manager, comments "Since 2016, we have been using the instrument for quality control and for research and development. The equipment is better than a common gas chromatograph because it facilitates the job for discovering chemical compounds contained in the products.
It also avoids the need of maintaining a human sensory panel and at the same time it increases the accuracy and confidence in the results of our analysis.
We can affirm that the purchase of this instrument was one of New Max's best investments."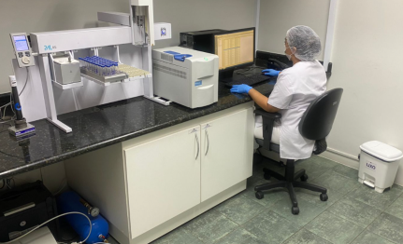 "HERACLES electronic nose increases the accuracy and confidence in the results of our analysis. The purchase of this instrument was one of NEW MAX's best investments"