Customer reference
Biffa
Biffa, a Great British company listed on London Stock Exchange since 2016, has been at the forefront of the UK's waste industry for over a hundred years, with operations that span the entire breadth of the waste management process including collection, reuse, recycling, treatment, disposal and energy generation.

Activity: Packaging recycling to produce HDPE pellets for the food and beverage industry
Context: Quality control of HDPE pellets batches to check if grade is acceptable for food use
Equipment: HERACLES Electronic Nose with AlphaSoft & AroChemBase
Website: www.biffa.co.uk
Recycled Plastics Quality Control

Inspecting recycled HDPE pellets odor conformity for food grade packaging

The use of electronic noses at Biffa has a long history dating back to 2008, when the Middleborough facility purchased its first Gemini, a former model of e-nose based on gas sensors. The objective was to check that HPDE pellets produced from recycled materials collected from different suppliers were free from off-odors and thus compliant with food grade requirements.
Nine years later, when they decided to replace their instrument, Biffa turned to the Heracles. They rapidly saw the advantage of such a GC-based device allowing not only to classify quality like Gemini did, but also to further investigate chemical compounds responsible for remaining off-odors, using AroChemBase database. Thus, four years later, they acquired a second Heracles to equip another production line.
Since all this time, after initial configuration with sensory panel input and monthly calibration against virgin HDPE quality, Biffa testing procedures on their 24h/7d production lines fully rely on electronic nose measurement.
Faster batch release thanks to HERACLES E-Nose

During the processing of a batch, that can take between 20 and 24 hours for about 26 tons of polymer produced, a sample is collected every hour. All samples (20 to 24) are analyzed at the end of the batch production process. If one of the sample fails to meet the reference quality, the whole batch is downgraded for technical use instead of food use.
Mark Broad comments: "with the electronic nose we can release a batch much quicker than if we used a sensory panel: in less than 12 hours instead of weeks. The use of the e-nose is very easy and in all our production teams, at each shift, at least one employee trained to operate the device, run an analysis and they feel comfortable with it.
Finally, our customers transformers are fully satisfied with our products, which are mainly used to manufacture milk bottles, and the electronic nose is our guarantee of quality."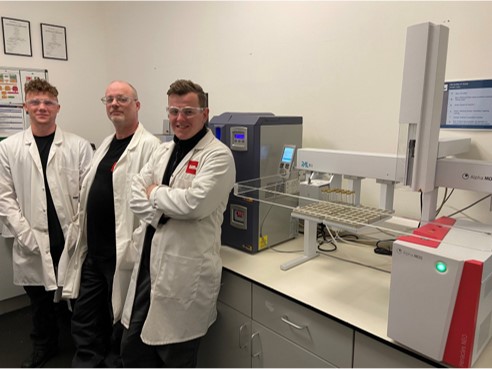 "We've been relying on e-nose technology to validate the odor quality of our food-grade HDPE pellets since 2008"