Alpha MOS renews its trust contract with the British company Biffa thanks to the excellent performance of its quality control technology
16/11/2021

With the purchase of an additional Heracles Neo in 2021, Biffa Polymers Ltd, a British company listed on the London Stock Exchange and leader for over one hundred years in the UK waste treatment industry, decided to renew its trust contract with Alpha MOS, Inc.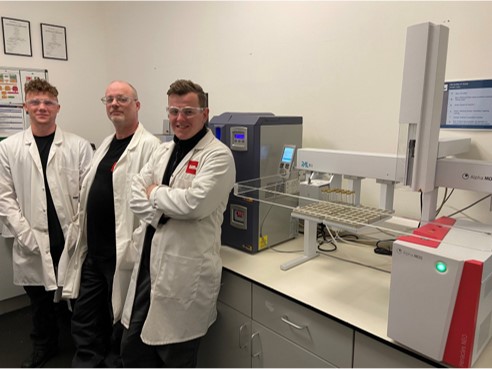 Biffa Ltd. has been using Alpha MOS' HERACLES electronic nose since 2017 with customer experience at the heart of the innovation strategy. Alpha MOS, has focused on  innovation and quality improvement to align with existing initiatives for brand protection at Biffa Ltd. 
HERACLES technology  can now ensure that HDPE (high density polyethylene) granules produced from recycled materials are free of residual odors and therefore comply with food quality requirements. In such a case, the advantage of HERACLES analysis, a gas chromatography-based instrument, is that it allows not only to classify by quality but also to study the chemical compounds responsible for residual odors, using the AroChemBase database. This year, Biffa has decided to acquire a second electronic nose to equip another production line!
In practice, HERACLES intervenes during the production of a batch, which can take between 20 and 24 hours for approximately 26 tons of polymer produced. A sample is taken every hour and then analyzed at the end of the batch production process: if any of them do not meet the reference quality, the whole batch is downgraded for technical use instead of food use. Mark Broad, Laboratory Manager at Biffa, comments, "With the e-nose, we can release a batch much faster than if we were using a sensory panel: in less than 12 hours instead of several weeks. Using the e-nose is very easy and in all our production teams, at each shift, at least one employee has been trained to operate the device, perform an analysis and is comfortable with using the instrument. Finally, our processing customers are fully satisfied with our products, which are mainly used for the manufacture of milk bottles, and the electronic nose is our guarantee of quality!"
Biffa Polymers Limited in short

Biffa, a British company listed on the London Stock Exchange since 2016, is at the forefront of the waste treatment industry in the UK. Its business covers the entire waste management process, including collection, reuse, recycling, treatment, disposal and energy generation.